Via Scoop.it – 地球のつながり方 旅の本編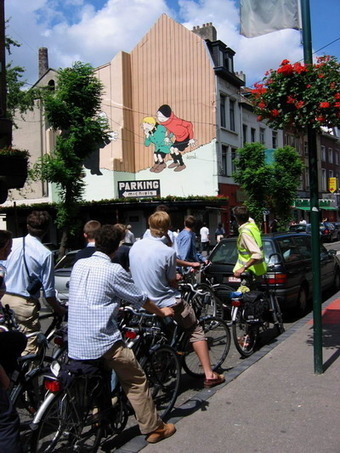 Discovering the city by bicycle is fun and healthy and offers an unparalleled viewpoint. Exploring a city by bike not only lets you enjoy the cycling itself, but also leads you into hidden spots, riding through small streets far away from the car-infested main streets. Pro Velo's aim is to show that the pleasure of cycling combines wonderfully with discovering our natural and architectural heritage. You needn't be a sportsman/woman to join us : it's family entertainment.
"PUBLIC" TOURS
Check our French or Dutch agenda and book before 17 o'clock the Friday before the tour of your choice. There's three Starting points in Brussels with rental on site if you booked a bike in advance. Make sure to arrive at least 15 minutes before the start of your tour.
Half-day tour : 9€ (rental : + 8€)
Whole day tour : 13€ (rental : + 10€)
Discount : 20% for youth cards, students and unemployed, 40% for children (6-12)
Pro Velo is a member of Voir et Dire Bruxelles, a permanent round table for urban toursime and organises the Art Nouveau Biennal.
"PRIVATE" TOURS
Pick the theme below and book a date for your groups (max. 20 people). We guide throughout the year in English, French and Dutch (German, Spanish, Italian or Spanish on request). If bike rental is needed, your tour starts from the House of Cyclists and the price is an additional € 9 (half day tour) or € 12 (full day tour) per bicycle. We charge extra for an accompanying technician, extra guides, transport, parking costs, exceeding normal working hours (10-18u),…
More information & prices ? Call +32 2 517 17 64 or mail us. Check our general conditions (FR NL) and stay tuned by subscribing to our monthly newsletter in Dutch or French.
Discover ERDF-projects by bike (16km – 3h)
Free of charge, bike rental included.
During the Belgian presidency of the European Union in 2010, the Capital Region wanted to put forward some of the European Regional Development Fund's investments. La Fonderie, the center for historical & social development of the Brussels region developed in this respect a series of guided walk, bike & boat tours. The ERDF is a structural European fund enhancing economical & social cohesion within the EU. Its investments include direct financial aid for companies assuring sustainable jobs, the setting up of a research infrastructure for innovation…
These bike tours pass through neighborhoods like the Marolles, Kuregem, ancient Molenbeek, the Port surroundings and the North quarter. The ERDF will launch projects on these former industrial spots, who are facing today huge urban and social challenges. Discover some ERDF projects and you'll see that Europe in Brussels exceeds the European quarter !
Brussels for Beginners (12km, 3h30')
The broadest tour in our range, going from architecture and history with Europe's capîtal must have seens : the European quarter, the 'squares'-district just aside, the Cinquantenaire park, the city-centre with Grand-Place, Sainte-Catherine, Dansaert, Saint-Géry, the Marolles, the Royal district…
Magritte and Surrealists (20km, 4h)
Learn all about Surrealists in Brussels. This tour includes a visit to the René Magritte Museum in Jette in which the Belgian surrealist painter worked nearly 24 years of his life. 5€ extra
Comic strips and cafés (12km, 3h30')
A circuit to discover the comic strips murals and typical cafés of central Brussels.
ART DE VIVRE – GOURMANDISE
Beer and breweries, past & present (20km, 4h)
Want to see why Belgium is a beer country ? This tour pays a visit to some typical pubs including the last active brewery in Brussels : Cantillon. 4€ extra
Brussels by night (12km, 3h30')
Ever experienced our nightlife by bike ? Every night gives you the chance, but our guide shows you the special places…
Christmas Lights (12km, 3h)
Around the X-mas period, you can book this unique and jovial tour with a stop for hot wine. The bike is the best means of transport to see how beautifully Brussels is enlightened in winter time.
PATRIMONIAL HISTORY
Discover the extraordinary history of our capital and visit its hidden areas away from the tourist crowds : Brussels heart throughout centuries
Art Deco and Modernism 1920-1940 (15km, 3h30')
The architecture of the interbellum (between the two world wars) was the beginning of great innovations and decorations : a new view of the structure, the original use of concrete, rather functional for the new constructed buildings… This creative tour shows you around the lake district in Ixelles, Brussels' universities, the avenues Molière and Coghen in Uccle and the Altitude Cent in Forest.
Art Nouveau in Ixelles and Saint-Gilles (15 km, 3h30')
This tour proves that Brussels certainly deserves its soubriquet of "Capital of Art Nouveau" ! From the 'manifesto' houses by Victor Horta and Paul Hankar, the two leading Art Nouveau architects in Brussels, to the charming houses by Ernest Blérot and the Delune brothers, this tour shows participants how the style developed and flowered in the Ixelles Ponds district, either side of the Avenue Louise, and in Saint-Gilles.
Treasures of Art Nouveau in Schaarbeek & EU quarter
This tour shows you around Schaerbeek and the Squares. You'll witness the work of of architects like Strauven, Horta and Jacobs : innovative visual concept of modernity combined with neoclassical thinking.