See on Scoop.it – Japan Now 1 地球のつながり方 震災・原子力事故・紫陽花運動・原子力賛成反対対話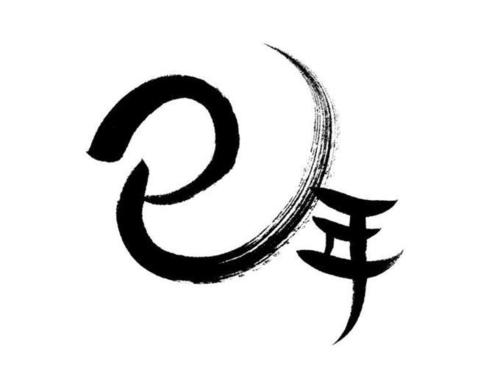 Wish you happy new year 【4】
This year's Zodiac Snake forms the letter「巳」.
巳は「シ」「やむ」とも読まれ、原義は胎児の姿を表す象形文字です。蛇が冬眠から覚めて地表にはい出した姿を表すともされ、従来の生活に終わりを告げると言う意味を持ちます。蛇は天地創造の昔から、知恵、財産をもたらす神様として、信仰の対象になっています。五行では陰の火。人の心を温め、安らぎを与え、暗夜の中で光明となる灯火です。
(
日本十二支学会:
http://www.seitokukai.com/jyunishi/each/06.html)
「巳」reads "Mi", represents the shape of an infant baby, or a snake wake up from hibernation. This also means the conventional life style has to come to an end and the new one replaces. Snake who sheds skin entirely when grows to the next stage is the symbol of total evolution, death and the reincarnation. Snake is thought to be a god who grants wisdom and fortune and the light in the darkness.
See on www.facebook.com